There are four different rotation classes, which are Professional Skills, Financial Literacy, Scientific Research, and Manufacturing Technology. At the beginning of each semester, students are assigned a letter ( A, B, C, D, or E). Students who are in the the E-group are students who have been in the program for a full year and have completed all four rotation classes. These students are put into a special rotation class, which focuses on reading and math skills. Seniors in the E-group receive special instruction for senior interventions that focus on resume building, networking skills, and mock interview training. The students who are in groups A through D will attend all four rotation classes every week.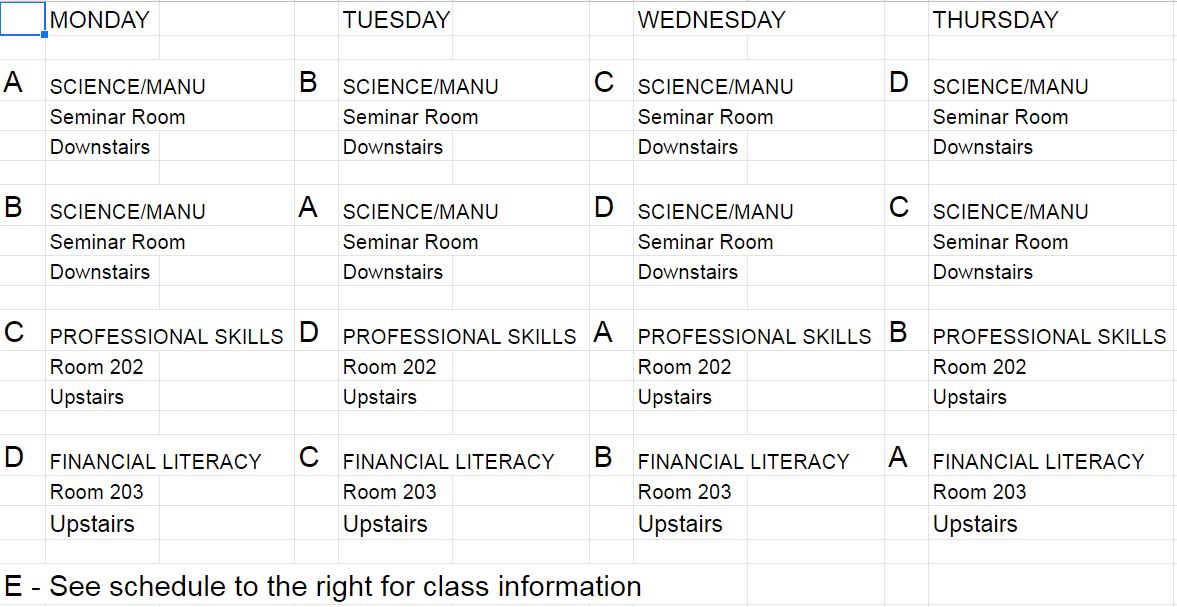 Students will learn how to use equipment used in manufacturing such as calipers, micrometers, and digital microscopes. Students will learn how wire is made, the importance of measuring accurately and precisely. Students who complete one year of Scientific Research will receive credit in science. This science credit can be used as the students' fourth required science class for graduation.
Manufacturing and Technology
Course work in the Manufacturing and Technology rotation class is designed to prepare students for their certification in Manufacturing Technology. Students who have earned credit for Manufacturing 1 and Manufacturing 2, and are enrolled in Manufacturing 3 will take the End of Course Pathway Assessment (EOPA), which is the Precision Exam certification in Manufacturing Technology.
12 for Life incorporates the Georgia Best Employability Skills Training into our Professional Skills Curriculum. Some of the most common topics that are covered in Professional Skills are punctuality, dependability, honesty, work ethic, work relationships, building a positive work record, general communication skills, resume building, and interview skills. Professional Skills culminates in the seniors creating their personal resume and then participating in the 12 for Life Networking Fair each spring. At this fair, students will interact with 15 to 20 local businesses. In addition to the Networking Fair, seniors will participate in mock interviews hosted by Southwire's human resources department.
Students will develop and evaluate a spending and savings plan while applying rational decision making to personal spending and saving choices. Students will be trained in the use of the "Envelope Budgeting System" where they will learn how to break down monthly payments into weekly deductions from their pay. Additional topics covered in Financial Literacy include credit cards, payday loans, car title pawn, compound interest, and investments.